Puma Blue will Celebrate his Debut Album, 'In Praise Of Shadows' with a Special One-Off Concert Film
signed to Blue Flowers
⇥ PUBLISHED ON 5 February, 2021
An obvious statement, but – We. Miss. Live. Gigs. We know you feel it too so we'll say no more on that. Instead, we look to the solace found amidst the struggle and strife of the past few months, courtesy of musicians, artists and creatives. We've been offered a plethora of new and inventive virtual experiences that have helped us feel that little bit closer to the music, and for that, we can't thank these innovators enough.
On Thursday, February 11th, Puma Blue will celebrate his debut album with a very special one-off concert film – this is one we urge you to add to your diary. Filmed at the historic Battersea Arts Centre, A Late Night Special features Puma Blue leading an extended eight-piece live band through songs from his new, debut album In Praise Of Shadows alongside select favourites from the 'Swum Baby' and 'Blood Loss' EPs.
Perfectly suited to the after-hours ambiance of Puma Blue's nocturnal hymns, the live performance will be treated with an arresting visual flair courtesy of CHILD, a directorial duo whose previous credits include visual projects for the likes of Robyn, The xx, and Richard Russell's 'Everything Is Recorded'.
Set to broadcast at 9 pm GMT/10 pm CET (with additional showings at 10 pm local time for Australia, Asia, and the Americas), fans will have a window of 48 hours to view or rewatch the show. Tickets are available from DICE, and optional bundles include a vinyl, CD, and a limited edition gig poster.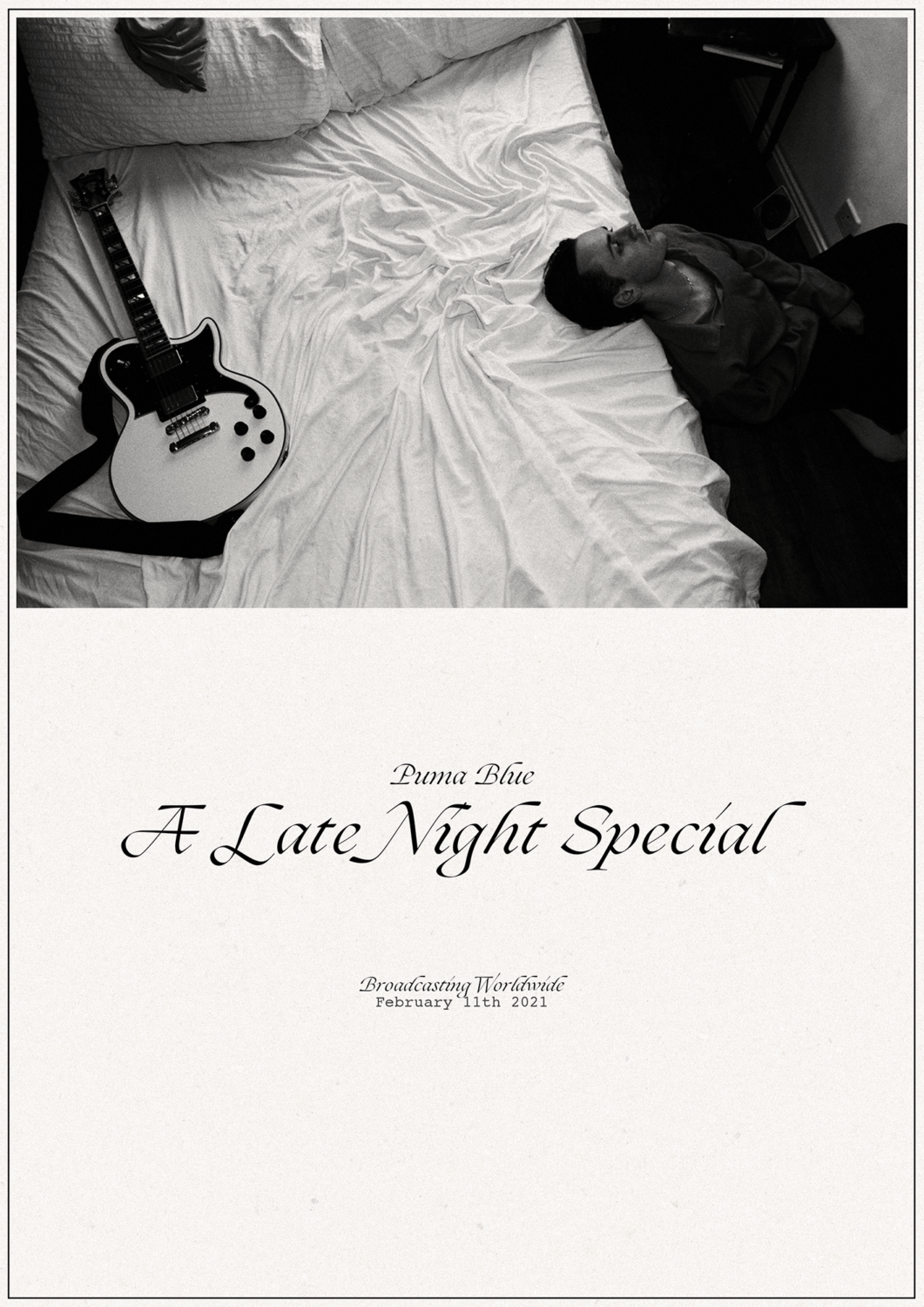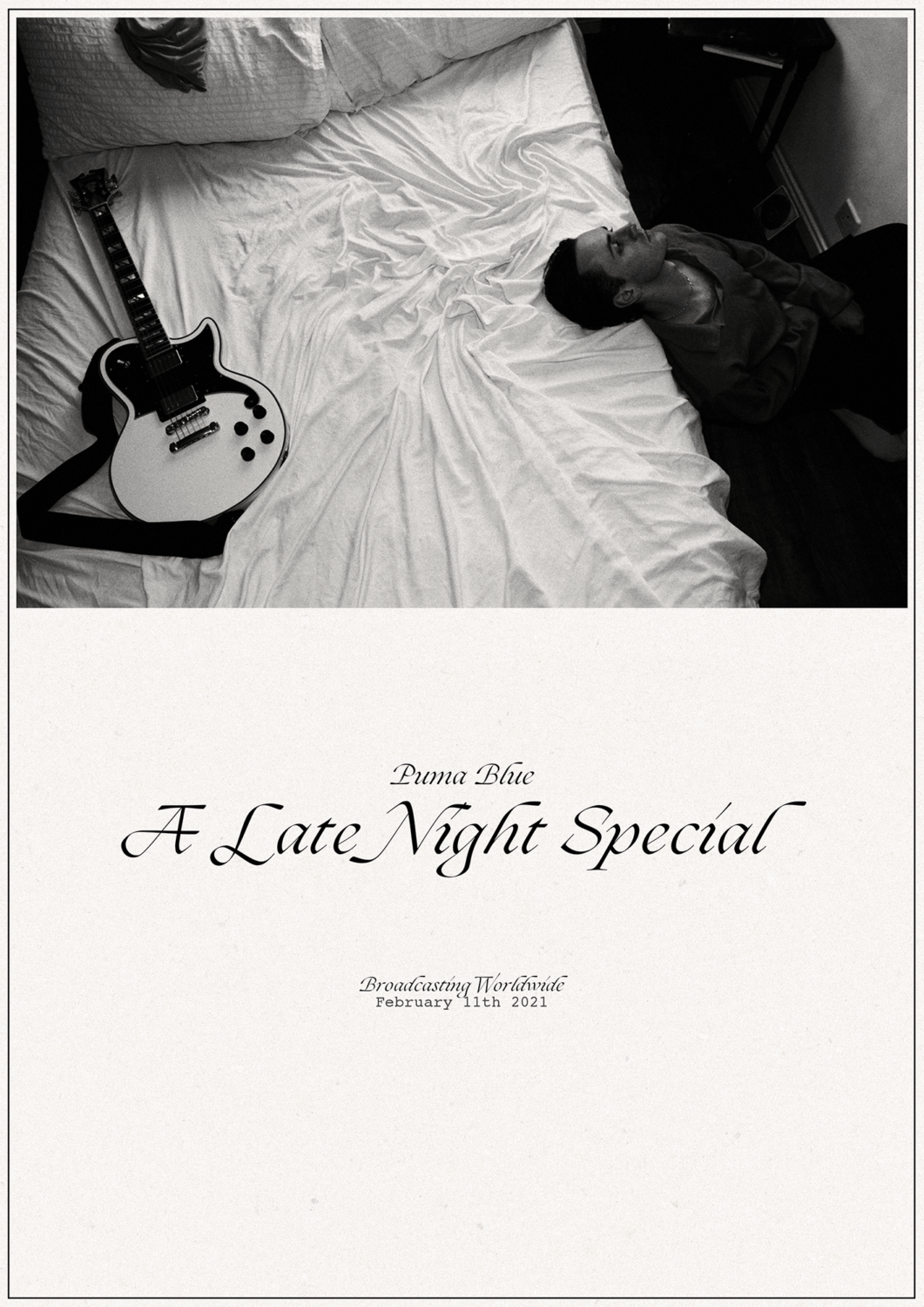 Commenting on the concert film, Puma Blue (real name Jacob Allen) said, "it was difficult to imagine how to represent In Praise of Shadows as a live experience without the option to tour – but the opportunity to shoot something special at Battersea Arts Centre seemed really fitting. It's a venue that was devastated by a fire in 2015 and subsequently restored by a team who consciously left the damaged original structure on show. I was just drawn back to the idea of coming to a place of acceptance with the darker things in your past and recognising them as an important part of your present self."
It felt like a really powerful space for the album to exist in.
Puma Blue
Oh, and today marks the release of that eagerly-anticipated album. In Praise Of Shadows is a fourteen-track collection that displays an individualistic melancholic meld of organic live instrumentation and skeletal beats. The album title was inspired by a book by Japanese author Jun'ichirō Tanizaki, with both works of art sharing themes of finding sparks of light in the all-enveloping darkness.
Earlier this week, the 25-year-old released 'Already Falling' a track that features arguably the smoothest, most sensual vocals of Puma Blue's career to date. "I'm already falling in love with the shape of you," he sighs deliriously during the song's beguiling hook. That seductive mood is complemented by its spacious, homespun production which embellishes its beat and pulsating bass with soft flourishes of guitar, strings, and sax.
'Already Falling' follows the release of 'Velvet Leaves', 'Snowflower', 'Opiate' and 'Silk Print'. Collectively the songs form a dreamland of soulful vocals, D'Angelo-ish guitars, and muted electronic beats, marking an impressive leap forward from the lo-fi, bedroom productions of early EP releases – 2017's 'Swum Baby' and 2018's 'Blood Loss' – from which Puma Blue first drew widespread attention.
Thematically it continues Puma Blue's flair for opening up about introspective vulnerabilities. As he explains, "'Already Falling' was written about the intoxication of waking up with someone special. You want to fall down the rabbit hole with them forever, but you're also trying not to get too ahead of yourself. There's a realisation that it's too late for that, but it's okay to give in to those feelings when you trust yourself."
Next In Next In
⇥ A New EP from KIRBY is on the Way – 'Sis, He Wasn't the One' Arrives this October